UPDATE: Wheeeeee!!!! The Lumpia recipe is a semifinalist at the Saucy Eats contest. So I brushed up this article a bit...
Vote for the Lumpia!!!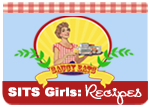 Lumpiang Shanghai (or Lumpia for short) is a crunchy Filipino dish that always delight friends who are introduced to it. Some have asked for the recipe and I thought that was funny because I'm not really a good cook :) (right, Beth?). If my mother could only see me now, she would be proud that her daughter has mastered at least one recipe.
Anyhow, I thought it would be good to post it in this blog as well so anyone interested can use it as well. Here goes:
INGREDIENTS: (Makes 150 pieces.)
Lumpia wrappers (Use TYJ Spring Roll Pastry - 2 packs of the biggest size 25 pcs each)
1 pound ground meat (I use turkey but you can use any kind of meat. If you use beef, suggest to mix it with any of the white meats because beef is hard when it is fried.)
2 fist size carrots (I use baby carrots)
1 fist size garlic
1 fist size onion (any color but red onion is strongest)
2 eggs (beaten)
3/4-1 cup soy sauce (use Silver Swan brand.
Reduce according to taste.
)
1-2 tsp sugar
1 tbsp flour
1/3 cup water
cooking oil (for frying)
Sweet and Sour Sauce
DIRECTIONS:
A. Thaw the wrapper
either by leaving it outside the ref for about 30 minutes or in the microwave for a few seconds.
You can separate the wrappers individually even before you start wrapping. Just make sure that you cover it with damp cloth/napkin to keep it moist. Otherwise, you can just separate them as you go through "D" below.
B. Prepare the mixture
1. Chop the carrots, garlic and onion. (I typically use food processor.) Add the soy sauce and sugar, stir. Taste and adjust, if necessary.
2. Add ground meat and egg. Mix thoroughly.
C. Prepare the "sealant"
by mixing 1 tbsp flour in 1/3 cup water.

D. Wrap the lumpia
(I picked up this faster method from Charmaine. (Thanks, Charmaine!) It was 3x faster than what I used to be doing which was the fine and fancy way. :) So, it was a no-brainer for me to adopt the faster way.)
1. place about 2 tbsp mixture parallel to any of the edges. Distribute mixture from end to end so that it is about 1cm thick.
2. roll the wrapper over the meat and continue to roll until about only 1 inch is left.
3. apply the flour/water sealant and complete the roll.
E. Taste test
by wrapping 1-3 pieces first.
1. Cut the lumpia into 3 pieces.
2. Fry and taste. (You can deep fry but I usually just shallow fry.)
3. Adjust mixture, if necessary.
4. Proceed to wrap the rest of the meat mixture.

F. Fry the lumpia.
Remember, for every 1 lumpia, you can cut them into 3 pieces. Typically, if eaten with rice and the sweet and sour sauce, I can eat 10 pieces.

G. Freeze the raw lumpia.
You can then just thaw, cut and fry later.
1. Store the lumpia in separate freezer bags so that you can use just what you need at a time.
2. You can thaw the raw lumpia before frying. Or you can dunk it in straight (but be careful of oil splatters!)
3. Cut the raw lumpia into 3 or your desired size.
That's it! Have fun making the lumpia.
For me, I usually eat the lumpia with rice, cucumber and the sweet and sour sauce. Yummy!!!

I would love to know how yours went, so let me know!
And remember to...
Vote for the Lumpia!!!