I've been actively roaming around the blogosphere for about 2 months now. The blogs that I visit are primarily written by women. These women come in all colors and stripes and that's what makes it interesting!

In the blogosphere, there is what is called a blog carnival*. Katy Lin at the great adventure started one last June called, you guessed it, "My Husband Rocks" Friday.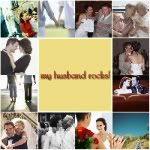 As a newly-wed, she was looking for positive reinforcement about marriage in the midst of the in-your-face negative portrayal almost everywhere. She was inspired by a company she stumbled upon and thus started the blog carnival.
Let me tell you more about the company.
From*me tees
is the name of the company and they make shirts to "celebrate your spouse in style". In their own words:
"From*me Tees was started by a married couple who knows what it is to work through hard stuff and yet stay together and stay committed and only grow to love each other MORE through it all. One of the great and wonderful mysteries of life is that loving each other in action--what we do and say--produces romance.

Everything in our culture today teaches the opposite, that romance turns into love, but nothing could be further from the truth. Love is a choice and we decide how we're going to treat each other in the good and in the not-so-good times. What a hope-giving reality that a strong, loving, thriving relationship can be built, simply by changing how we interact with our spouse.

Marriage was created to be a blessing and a little kindness and respect goes a long way. Accept the fact that your spouse isn't perfect and then start taking notice of all the good things they bring to the table! Pretty soon you can train your mind to be grateful for who they are as opposed to feeling disappointed about who they are not. When you allow yourself to believe that your spouse rocks, you will free yourself from the downward spiral and temptation of self-pity, disappointment, and even dispair.

The fact is, your spouse is probably a greater blessing than you allow yourself to realize...so lay down your expectations and praise your spouse for his/her attributes. After all, the key is to change yourself! And you'll be surprised at the positive affect it has on the one you choose to love...and you!"
One of the shirts that From*me Tees has "my husband rocks" across it. That's where Katy Lin's blog carnival title comes from.
What about the "Friday" part? That means, we post our article on why "My Husband Rocks" on Friday.
Anyhow, my participation starts today. I will do my best not to embarrass Al too much as he can be soooo self-effacing. If you read my post and then it suddenly disappears without a trace, then you will know that he took the post down!
======================================================
*A blog carnival, in my own words, is one where a blog owner decides to write on a topic and invites (or makes it available for) others to write on the same topic as well.
The blog owner usually provides a banner to show off the blog carnival. The blog carnival participants could then grab the code and display them also in their own blogs.
Also, the blog owner lists the blog links of the participants in her blog so that it is visible who is participating and where the post can be read.
Other examples of blog carnivals are:
Menu-Plan Monday
Works for Me Wednesdays
Mel's Show and Tell