No, I am NOT running for the US presidency...

I am a semi-finalist!!! I should say my Lumpia recipe is a semi-finalist!!!

I know, you may think I am overly-excited over a $100 gift card and a digital camera as prizes... but yes, I admit, I am very, extremely, really excited! Maybe, this is my 15 minutes of fame ... hehehe...

Here is my blog post on Lumpia recipe that was selected as one of the 11 finalists (out of 73 submissions). If friends and family testify how delicious they are (leave a comment in the Lumpia blog post), then maybe those who have not tasted it will believe!!!

The other recipes are good, too, but I assure you, my lumpia recipe is absolutely delicious. (wink, wink) Please vote for Lumpia at Saucy Eats.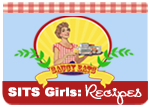 Maybe I will win the $100 gift card and the digital camera! And have my 15 minutes of fame.
Thanks!!!
Read more...